VILLAGE HALL / VILLAGE CLERK / WATERWORKS OFFICE - 968-7080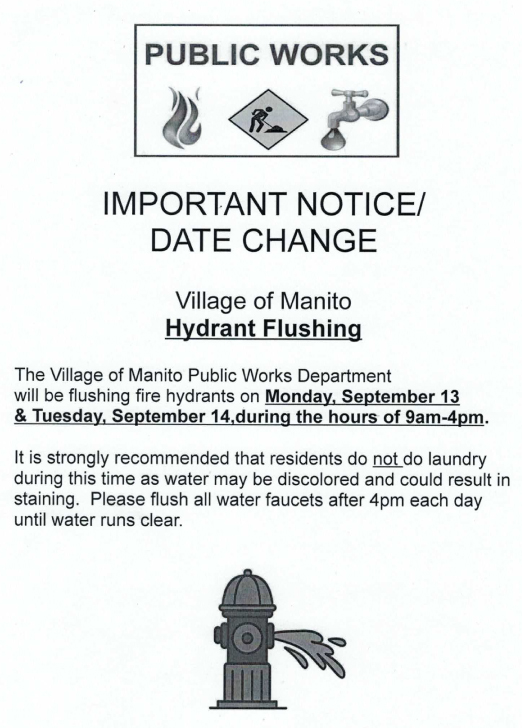 From the September 14th edition of the Manito Review:
Deadline to Sign-Up is September 14!...
Manito's Annual Town Wide Rummage Sales will be held September 17 & 18
'Tis the season for Rummage Sales and nothing beats when a whole town gets together to hold their sales on the same weekend!
Twice a year in the Spring and Fall the Manito Chamber of Commerce sponsors the Town Wide Rummage Sale. Homeowners all around town go through their closets and storerooms bringing out treasures to sell; treasures you might not find anywhere else. It's also an opportunity to meet your neighbors and catch up on Village events.
Held the third weekend of September, this year the Fall sales will be on Friday, September 17 and Saturday, September 18. A few ambitious residents will even have sales on Thursday.
Everyone knows how much more productive the quest can be when there are a lot of sales all close to each other so you're not wasting time driving around. To help with your search, maps will be printed and will be available at select Manito businesses.
Sign up for inclusion on the map will start at the time of this publication. You can sign up at the Manito Branch of The Havana National Bank during their normal lobby hours. A five dollar fee will be collected to help offset printing costs. Deadline to be included is September 14th.
Green Valley Town Wide Sales
The Village of Green Valley will be sponsoring Town Wide Sales on Saturday, September 25th from 8:00 a.m.-2:00 p.m. (rain or shine). Green Valley residents interested in participating may pick up a form at the Village Hall. The village is sponsoring the sales, so no fee will be charged; however, any resident planning to have a sale is asked to return the form to the Village Hall by September 22, so that a map and items available can be provided to shoppers.
For any questions, please call (309) 352-3590 or stop by the Green Valley Village Hall between 8:00 a.m. and 1:00 p.m., Monday-Friday.
Purchase a Brick in the
Frederick Family Playground
The Manito Veteran's Park Playground Project invites you to purchase a personalized brick for the Frederich Family Playground.
Purchasing a personalized brick gives you the choice to honor a friend or family member, memorialize someone special, promote a business, honor a Veteran and support your community or Purchase a blank brick just to show support.
Two sizes of brick are available: 4x8 for 14 characters on three lines, or 8x8 for 6 lines of 14 characters.
Order blanks are available at Manito Village Hall.
For more information you can contact Monica Charlton at 309-241-3650 or at monicac@ midwestcentral.org
Deadline to purchase is October 1, 2021.
Retired Teachers to Meet
The next meeting of the Mason County Retired Teachers Association will be held in Havana on September 14 at St. Paul's Lutheran Church. Lunch begins at noon, followed by a program and a business meeting. Mary Evans of Havana will present a program about her collection of crosses.
The IRTA will hold its state convention in Springfield on October 18-19. For those wishing to attend, the registration deadline is September 15. More information may be found on the IRTA website.
All retired teachers are welcome to attend the September 14 meeting. If you are attending, please call your area chairman by Friday, September 10:
Havana - Marilyn Stout - 309-562-7428; Illini Central - Pat Showalter - 309-241-6265; Midwest Central - Connie Friedrich - 309-253-2690 (Please leave a message.)
CAPCIL Re-Launches
Disaster Relief Unit
Community Action Partnership of Central Illinois temporarily re-launches the Disaster Relief Unit in hopes to help those financially affected by the pandemic. The Disaster Relief Unit (DRU) is funded by the Community Services Block Grant (CSBG).
DRU will run July 19th through September 30th, providing support services during, and following the COVID-19 pandemic. Support Services will include rental & mortgage assistance, and additional utility assistance. These services will be available in all six counties in their service area.
If you have been directly affected by COVID-19 and need assistance, please contact us for eligibility by calling CAPCIL. For those in Logan, Mason & Fulton Counties please call 217-732-2159. For those in Dewitt, Menard, & Piatt Counties please call 217-762-2421.
It is the mission of CAPCIL, in partnership with communities in our service area, to empower persons with low income and the aged by creating and implementing poverty-fighting initiatives for those in crisis and those that endeavor a life of lasting independence.
Recovery Walk
September is National Recovery Month! In celebration of this important month, the Logan Mason Recovery Oriented Systems of Care (ROSC) is staging its first annual Recovery Walk in both the Logan and Mason Counties.
Mason County Recovery Walk will be held on Saturday, September 25th from 1-3pm at Riverfront Park near downtown Havana – 112 N. Schrader St. Havana, IL 62644 (rain date Sept. 26).
The Logan County Recovery Walk will be held on Saturday, September 18th 2021 from 1-3pm at Scully Park near downtown Lincoln – 303 S. Kickapoo St. Lincoln, IL 62656 (rain date Sept. 19).
The walk will be less than a mile with participants meeting and ending at the starting location. Please note, walking is not a requirement to participate in this event.
Recovery from addictions, mental health concerns, and other life challenges CAN and DOES happen! We believe there are many paths to recovery. Join us to remember those who have been lost to Substance Use Disorder and other mental health disorders. Please join us in this Recovery Walk to bring awareness and connect with others to eliminate stigma while celebrating victories in recovery.
This is a free family-friendly event where all members of the community are encourage to attend! Community vendors and agencies will be providing a wide variety of valuable resources and education.
If you are interested in becoming a sponsor, making a donation, or if you have any questions, please contact the Logan/Mason ROSC by emailing LoganMasonROSC@gmail.com or by calling/texting 309-391-1298. If you are interested in having an informational booth at the walk, please email the Logan/Mason ROSC and be prepared to bring your own table/chairs.
Village of Manito
Hydrant Flushing
The Village of Manito Public Works Department will be flushing fire hydrants on Monday, September 13th & Tuesday, September 14th, during the hours of 9:00 am-4:00 pm.
It is strongly recommended that residents do not do laundry during this time as water may be discolored and could result in staining. Please flush all water faucets after 4:00 pm each day until water runs clear.
Corn Shuck Market
September 25 at Past Time Antiques
Past Time Antiques will be hosting a Corn Shuck Market on Saturday, September 25 from 9:00 a.m.-4:00 p.m. This wonderful event will be held both inside and outside of Past Time Antiques (with plenty of room to social distance) located at 608 W. Main St., Green Valley, IL.
Come join us for a gathering of handmades, pumpkins, fall decor, antiques, pottery & more. We will have food trucks there with delicious food available to purchase (so be sure to bring your appetite too!)
Call 309/360-1752 if you are interested in renting a space for this awesome event (a few spaces are still available).
We hope to see everyone! It will be a gathering of handmade and needfuls blended with repurposed one of a kind items.
LWML Lincoln Zone Fall Rally
"All Things Are Possible With Faith" will be the theme for this year's Lincoln Zone Fall Rally of the Lutheran Women's Missionary League (LWML) Central Illinois District. The rally will be held on Thursday, September 23rd at Christ Lutheran Church, Mason City. The rally will begin at 9:30a.m. with opening devotions by Rev. John Johnson.
Featured speaker for the rally will be Rev. Joshua Theilen of Camp CILCA who serves as the camp's Executive Director. The rally's Bible Study will be led by Rev. Michael Mohr of Vandalia who currently serves as the Sr. Pastoral Counselor for the LWML Central Illinois District.
Zone President, Deloris Blessman, will conduct the business meeting and Zone Vice President, Sharol Bolton, will direct a Christian Life Program based on the rally theme.
Gifts From the Heart Ingathering will be various items going to the local Food Pantry in Mason City.
The LWML is an auxiliary of the Lutheran Church- Missouri Synod which proclaims the saving faith of Jesus Christ throughout the United States and the world through mites. A few of the projects being funded with mites on the District level include: Student Aid for Church Workers; Food Banks at St. Louis & Ft. Wayne Seminaries; Expanding Access at Camp CILCA; and Filling Haitian Tummies.
And a few of the projects being funded with mites on the National level include: Deaconess Ministry Dakota Boys and Girls Ranch; Healing the Invisible Wounds of War through Horses; Bible Books for Africa's Children; and Making the Next Generation of Disciples for Life.
The public is cordially invited to the rally. For information, contact one of the Co-chairperson: Jeanette Johnson (217) 871-8498 or Alice Meeker (217) 891-1688.