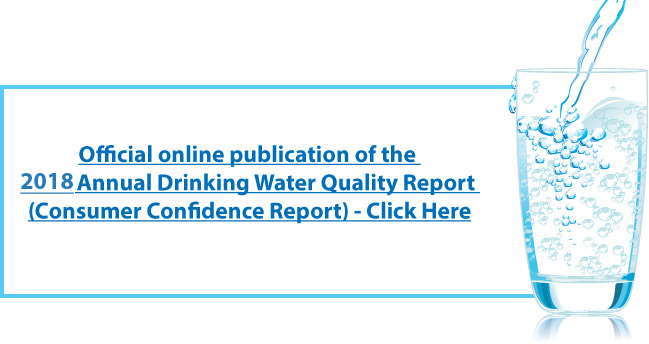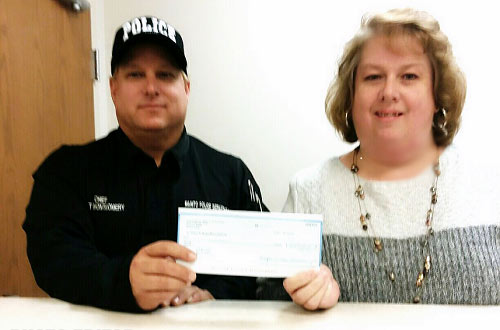 The Village of Manito would like to thank the Forman Valley Community Foundation for the grant of $8,726.16 for the Memorial Park to make improvements and repairs to the pavilion. This grant was funded by the Dr. Nelson A. Wright Memorial Fund and the William F. Heinhorst Family Fund. The Village of Manito is grateful for this grant opportunity which benefits the whole community to continue to enjoy our beautiful park.
New from the


From the May 14th edition of the Manito Review: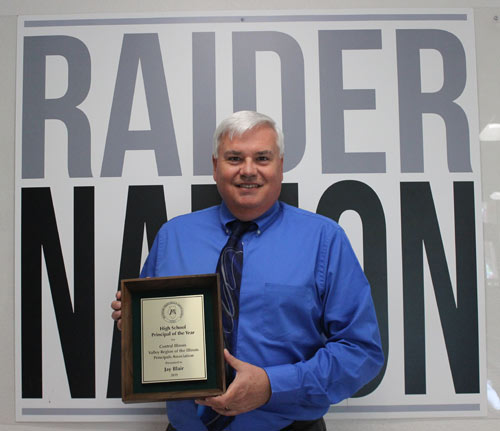 Jay Blair of Midwest Central High school has been awarded the High School Principal of the Year Award by the Central Illinois Valley (CIV) region of the Illinois Principal Association. The CIV region covers Peoria, Woodford, Mason, and Tazewell Counties. Blair has been in education 31 years and his career started at Midwest Central formerly Manito Forman. During his 31 years as a Midwest Central employee he has spent 11 years as principal, 7 years as an athletic director and assistant principal, and the remainder as a science teacher. He's coached track, basketball, and cross country.
Under the leadership of Blair Midwest Central high school faculty and students conducted a book study this past year. The teachers worked together to develop lessons for the book The 7 Habits of Highly Effective Teens. Blair appreciates the fact that his students are graduating with more than just academic skills. The book study has taught them valuable leadership lessons that they will carry with them their entire lives according to Blair.
Charles Beebe Scholarship
Applications for the Charles A. Beebe Scholarship Fund may now be picked up at Midwest Central High School or at Manito Community Bank in Manito. Applications must be filled out and returned to Manito Community Bank, PO Box 646, Manito, IL 61546 no later than May 15, 2019. You must be a graduate of Forman High School or Midwest Central High School and be furthering your education to qualify for this scholarship.
Sunday Evening Worship
The Manito Community United Methodist Church is now hosting a Sunday Evening Worship for those people who have a hard time getting started early on Sunday morning. Pastor Steve Oaks provides the sermon and music is provided by a newly formed praise band called The Commission+. The service begins at 5:00 P.M. and lasts approximately an hour.
This service is a little more relaxed and not as structured as the morning service. Join us and encounter Jesus at each and every service. We embrace a spiritually healthy mixture of the newest modern worship songs, classic hymns, as well as original worship music.
Mason County Democrats
13th Golf Outing
The Mason County Democrats will be hosting our 13th annual Golf Outing again at the Country Hills Golf Course, located at 21723 Smoot Rd., Greenview, Illinois, on Saturday, June 8, 2019. Please sign in by 8:30 a.m. with a shotgun start at 9:00 a.m. Team foursomes fee includes 2 carts and lunch. Individual golfers can be placed on open teams. Hole sponsorships are available for fee. There will be a prize for the 1st place team. Prizes for both Menard Ladies for closest to the pin and the longest drive. Also a 50/50 cash raffle with many door prizes.
For further information contact Jay Briney, Mason County Democrat Chairman at 217-671-1236.
Manito Forest City Rotary Club
Senior Meal
The Manito Forest City Rotary Club will hold its monthly Senior Meal at The Lodge in Manito (please note the special location for May). The lunch is May 17th, at noon. Open to anyone over 55. We request that you make a reservation by Tuesday, May 14th, for the sake of the sponsor and The Lodge. Make reservations to Allen Forsyth by calling 309-597-2263, please leave a message. The meal sponsor this month is The Lodge in Manito.
2019-2020 Rotary Scholarship Available
Rotary District 6460 has announced academic scholarships for 2019-2020. Two types of scholarships are available.
The Domestic $3000 scholarship requires the completion of 24 hours of college credit prior to the application. This scholarship is to be applied to the Fall 2019 and Spring 2020 academic periods. Students who need additional information about the scholarships should refer to http://rotary district6460.org/foundation/districtscholars. Specific information is available on that page.
The $18,000 Menghini International Scholarship is also available. This scholarship is not a study abroad program through a local college or university. The student would need to apply to an International University and be accepted. Specific information concerning the scholarships is available at http://rotarydis trict6460.org/global-scholars
Both the application and a brochure are available for the international scholarship. The brochure explains the scholarship more thoroughly. The Menghini International scholarship may not begin before September 2020, but it should begin before September 2021.
You may also download the specific documents here:
• Rotary District 6460 Scholarship Information and Applications Rotary District Scholarship (2018-19) Application http://rotarydistrict6460.org/wp-content/uploads/Forms/2019-District-Scholar ship-Application-3000-FILL ABLE.pdf
• Rotary District 6460 (Menghini)International Scholarship (2018-19) Application - http://rotarydistrict6460.org/wp-content/uploads/Forms/2019-Fillable-District-Scholarship-App18000.pdf
• William J Menghini District 6460 Endowed Scholarship Brochure - http://rotary district6460.org//wp-content/uploads/Forms/Tri-Fold-BrochureLayout-Menghini-Schol arshipProgram-2Sided-NoBleeds.pdf
Applications, essays, resume, transcript, and letters of recommendation must be received no later than midnight, May 31, 2019. Interviews will be scheduled no later than July 13, 2019.
Any questions may be directed to the Scholarship Chair: Kris Rosentreter, District 6460 Scholarship Chair, 217-825-4083, crlnvl@gmail.com.
Public Service Announcement for Veterans and their Families
As you might already know, any type of benefit that a veteran and/or their family is going to get from the government or the military is tied to the veteran's discharge paperwork. For most that is the DD214.
Without the discharge paperwork the family cannot ask the veteran's branch of service to perform military rites at the time of burial; they cannot request a military tombstone for the veteran; nor they cannot ask for benefits that the surviving spouse and/or children may be entitled to.
When a veteran passes away is almost always to late to start looking for the DD214. It takes time, too much time, to get a copy from St. Louis, MO where the records are housed. To get representatives from the veteran's branch of service requires a 48-hour notice. That means that the location of the DD214 needs to be known to the family members making final arrangements. The local funeral homes in Mason County can and do take care of coordinating with the military services and the local veteran organizations, but they need the DD214 to do that. Usually someone in the local veteran organizations knows the deceased veteran and so they will do the military rites without needing "proof" of the veteran's status.
Now is the time to make sure that you, the veteran or family of the veteran, determine the location of the DD214 and put it in a safe place where it will be easily accessible when needed. I recommend that the DD214 is taken to the County Courthouse to have the County Clerk file the document. The DD214 is not public record and cannot be accessed by anyone without that person showing proof that they are authorized to see it. When the DD214 is needed because a veteran has passed away the funeral home and the County VAC can assist the family in getting the DD214 from County records. It is that easy.
If the veteran does not know where their DD214 is, we can help with that also. There is a simple form that can be filled out by the veteran or the veteran's next of kin to get a copy of the DD214. As a Post VSO, I can fill it out; Mason County has a VAC to assist veterans and their families and Mason County is lucky enough to have an IL Department of Veterans Affairs VSO come to VFW Post 6408 twice a month. The VSO can assist the veteran and/or their surviving spouse or children in almost any VA matter.
To keep from having a stressful time made more stressful, find the DD214 now and put it somewhere safe where it can be found when it is needed.
Legion Meeting
The Hill-Palmer Post 561American Legion and it's Auxiliary will meet on Monday night May 20th at the Legion Hall in Manito. Dinner will be served at 6:00 p.m. and a short meeting will follow at 7:00 p.m. All members are urged to attend.
All Veteran's, WWII through Afghanistan are welcome to join the American Legion. Please call Lee Hottell, Adjutant, at 309-840-1601 to become a member.