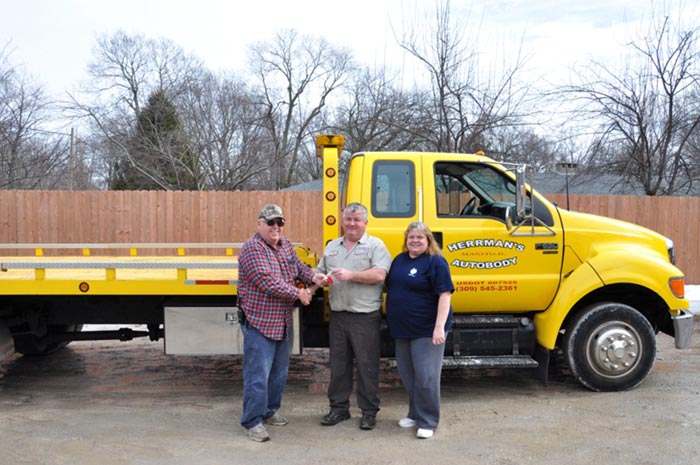 Towing Service Changing Ownership...
Formally Herrman's Towing, Now Bernshausen Automotive Towing
Chuck Herrman started as a young man in a budding business when the love of the automobile came into full swing. Growing up on a farm Chuck started "towing " vehicles with his John Deere tractor. As Chuck was in high school and following his graduation from Forman High School he started towing on a professional basis. Starting out with a model A tow truck with a hand crank boom (which he still has today) known as a knuckle buster he towed many of the area residents.
Chuck continued on through the years adding other towing vehicles. Never satisfied he wanted to add value for his customers, he then added heavy truck towing and vehicle recovery. With a 1960's era Oshkosh 6x6 and a 50 ton winch you could find him recovering stuck farm tractors or combines from the areas wet fields. Even as a farmer himself he would occasionally have to pull himself out. Chuck continued through the years spending many cold windy nights pulling people out of ditches or up righting tipped over snow plow trucks.
Now Chuck and Judy Herrman's towing career has shifted into retirement. Both will be "recovering" from the hectic 24/7 lifestyle and has passed the torch of providing outstanding towing service to John and Deb Bernshausen. Chuck and Judy felt that they (the Bernshausens) would uphold the integrity of service as they had done for many years.
John and Deb Bernshausen recently purchased a tow truck flat bed from Chuck and Judy Herrman. We are excited with the new addition to Bernshausen Automotive. It will help not only our customers but our community when needed.
We have a dedicated phone number to the tow service which is: (309) 968-6654.
We look forward to giving you the same good quality service that you have received from Herrman's Towing over the last several years. Chuck will continue to help guide us in our new business so you are likely to see him riding along.
Spring Lake School Kindergarten Screening
Spring Lake School is holding screening for children who will be attending kindergarten during the upcoming school year. In order for children to be eligible, they must be at least 5 years old on or before September 1st, 2014, and be a resident of our district.
Screening will be held during the afternoon of Thursday, May 8th, by appointment only. Please call 309-545-2241 to schedule. We ask that you bring your child's Certified Birth Certificate to your appointment.
Breakfast in the Park Forest City
The Forest City Park Committee will NOT have a breakfast on the 3rd Sunday of April, due to it falling on Easter Sunday. We appreciate your patronage and look forward to seeing everyone on the 1st Sunday of May.
The next breakfast is on Sunday May 4th, from 7am - ?
Emmanuel's Warehouse Notice
Due to the Manito Review going to subscriptions only, please note that information regarding Emmanuel's Warehouse will also be available at Country General, the Post Office, Manito Foods and at Manito's website www.villageofmanito.com.
Remember, Emmanuel's Warehouse Monthly Drive Thru Food Pantry is always held (unless otherwise posted) on the 2nd Saturday of each month. The Warehouse is held at the American Legion (201 South Broadway Street, Manito, IL) from 12:00 noon till 1:30 p.m. Emmanuel's Warehouse is for those in need in the Midwest Central communities. The next Warehouse will be held on Saturday, April 12th.
Please contact any board member or Rosemary Palmer at (309) 696-4217 for any questions.
Midwest Central Primary School Kindergarten Screening
The Administration and Kindergarten staff would like to announce that "Kindergarten Screening" will be held on: Thursday, April 24, 2014 from 8:00--3:00 and Friday, April 25, 2014 from 8:00--3:00 at the Primary School.
Kindergarten Screening is by appointment only.
To schedule a time for your child's Kindergarten Screening, please call the Primary School at 968-6464 between the hours of 7:30 am-3:30 pm by April 21,2014.
Kindergarten Screening is necessary for all incoming students who will be 5 years old on or before September 1, 2014.
The following information is required to make your appointment: Child's Name, Parent/Guardian Name, Address, Phone Number, Date of Birth.
The following information is required at the time of screening: Child's Certified Birth Certificate, Parent/Guardian Photo ID, Proof of Residency in our District