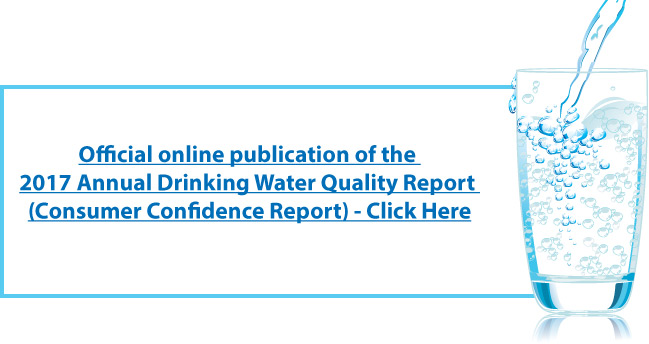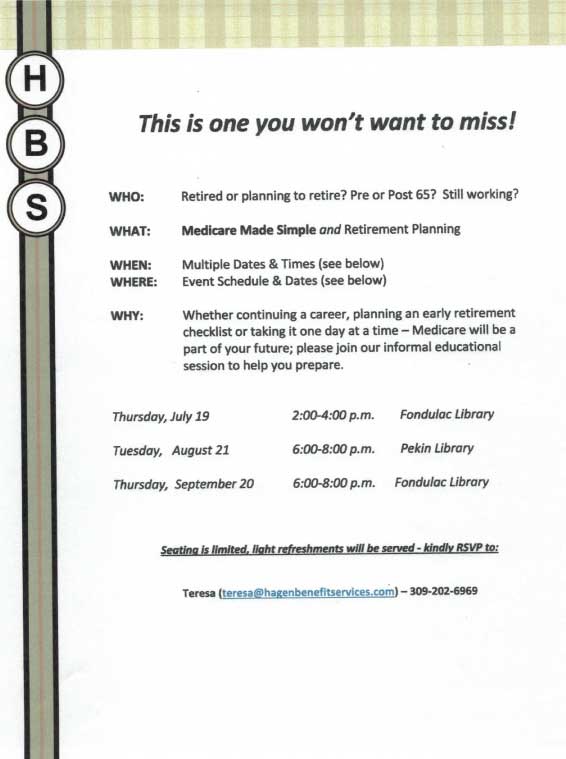 New from the


From the June 26th edition of the Manito Review:
Festival Friends
It is the goal of the Popcorn Festival Committee to provide as many of the children's activities as possible free of charge if sponsors can be secured.
We are looking for Sponsors but none have been found yet. If your business or organization would like to become a Festival Sponsor, please contact any member of the committee. You can find the committee member names and phone numbers on the Festival Website at www.manitopopcornfestival.com Festival Friends Donations are also being accepted. You can mail them to Manito Popcorn Festival PO Box 44 Manito IL 61546. Donations can also be taken to Manito Community Bank.
If you would like to become a member of the Popcorn Committee, join us at our next meeting on June 18 in Veteran's Park.
Donations for 2019:
Hopedale Medical Complex - $200.00
GVHS Class Of 1968 Plans 50 Yr. Reunion
SAVE THE DATE!! - The Green Valley High School 1968 graduating class is planning and hosting a weekend celebration for July 20-21, 2018. July 20th will be a private celebration for the 50 yr. class. The July 21st gathering includes additional alumni and friends and will be held in the banquet room of Pub 29 in Green Valley. Invitations have been sent to the graduating classes of 1965 thru 1971 for this event. However, all alumni, spouses &/or friends, and former teachers are welcome to attend. More details are provided in the invitations. If you have not received your invitation, please contact us as below.
RSVP by July 14th as follows: email - gvhs1968@yahoo.com; or call Marilyn (Dukes) Eberly at 309-689-0539; or call or text Connie (Schumm) Ary at 309-696-6880
13th Annual Katlyn Wooding
Honorary Golf Outing
The 13th Annual Katlyn Wooding Honorary Golf Outing will be held at 12:30 p.m. on Saturday, July 21, 2018 at Parkview Golf Course Pekin, IL. The cost is per team (includes 18 holes, cart and meal or just a meal price is available). A 4 person scramble shotgun start. $10,000 Hole In One Contest (free). All Proceeds to Benefit St. Jude Children's Research Hospital. Any questions call Evan or Laurie Wooding at 309/222-6339 or 241-4285.
G.V. Veteran Memorial Brick Orders
The order deadline is July 2, 2018 for engraved Veteran bricks to be installed and dedicated at the November Veterans Day ceremony at Green Valley Veterans Memorial. $50.00 donation for each brick.
Order forms are available at the Green Valley Village Hall, Mon - Fri, 8 am - 1 pm, or all 309-224-8513.
May 10th Blood Mobile Held
A Special Appreciation to the donors at our community Blood Mobile, which was held on May 10, 2018. You never know when one could save a life! Also, appreciation to the volunteers assisting the crew: Jean DeSutter, D. Becker, J. Goetze, C. Uselton, K. Roskamp, C. McCoy, C. Kenly, C. White and E. James.
July 19th, 2018 will be out next Blood Mobile. The last of the summer. Our community donors at the Forman Center has kept pretty steady, which is a great blessing!
May God's many Blessings for the Blood Donations at the Community Mobile, held at the Forman Center. We received 23 Units of Blood.
"A Life NOT Lived for Others Is Not a Life" Mother Teresa
Spring Lake School Registration
District 606 will be registering students for the 2018-2019 school year on Tuesday, July 17th, from 8:00 am–3:00 pm.
Registration fees for grades K through 6 are due by November 1st. Fees not paid before November 1st will increase to by $5.00. Fees are waived for those qualifying with income guidelines.
Children entering Kindergarten are required to present their certified birth certificate and have a vision exam by October 15th. Children entering Kindergarten and Sixth Grades are required to have a physical with up to date immunizations by October 15th. Children entering Kindergarten, Second and Sixth Grades must show proof of a dental exam by May 15th. Any student enrolling in an Illinois school for the first time must provide all of these items. You are welcome to contact the school at 545-2241 with any questions.
Sheriff Paul Gann Announces Safe Passage Program
Information available from Illinois Department of Public Health (IDPH) states that there were 1,946 overdose related deaths in Illinois for the year of 2016. That rate is 1 and 1/2 times greater than the homicide rate and nearly twice the number of fatal accidents, as reported by IDPH.
The opioid epidemic continues to spread across the country. The overdoses associated with this epidemic has led to a death rate that has surpassed other causes of death. In an effort to provide another avenue for treatment for those who suffer from opioid addiction, The Mason County Sheriff's Office has initiated a "Safe Passage Program.
This program is designed to serve several purposes. First, and foremost, is to help those who recognize their addiction get access to help. Secondly, is to get that access without first being incarcerated and facing criminal charges. Third, take that first step to remove the social stigmatization normally associated with addiction.
What is the goal? The goal is to attack the opioid epidemic that has led to far to many overdoses throughout the state. This epidemic does not recognize specific demographics, it respects no boundaries, and does not discriminate against a persons social or economic status.
What was past practice? Simple to state. The individual either gets arrested and faces incarceration or keeps using, and using, and using until they overdose. Sometimes the overdose leads to death. A death that was avoidable.
The law enforcement, judicial system, and other first responder communities have employed different tactics to assist persons suffering from addiction. Law enforcement officers and ambulance crews carry Narcan to administer to an overdose victim. In-patient treatment while incarcerated and/or drug court has been made available but that is after criminal charges have been filed. Those criminal charges do not help your addiction, they dig you deeper in debt and increase stress on you and your family.
Safe Passage; The Basics. Any Mason County resident, who suffers from opioid addiction, may come to the sheriff's office and request "Safe Passage" consideration. IF that person has any drugs or drug paraphernalia it can be turned in and there will be no criminal charges. The person will then be put in contact with a deputy for the sole purpose of screening for the program. The deputy will then contact a "guide", who will then attempt to place those who are eligible, into a treatment program. The time line goal from walking in door to entry into some type of treatment plan is within 12 to 24 hours. The individual seeking safe passage must do so willingly and be cooperative with the process. Anyone who may pose a risk to the guide or person conducting the transport will be denied access to the program.
Who is not eligible? If the participant has an active warrant, is a sex offender, has multiple drug convictions (one of which must be for delivery), a person under the age of 18 (unless you have a parent present), persons who are violent or may pose a threat to the guide or transporter are not eligible. This will be determined during the screening process.
If you suffer from drug addiction, please seek help. Call a hotline number, enter treatment yourself, or if you need a person to help you get into treatment, come to the Mason County Sheriff's Office located at 102 W. Market Street, Havana Illinois and ask for Safe Passage.
This is only one resource. Those who suffer opioid addiction should also consider one of the many Drug Addiction Hotline phone numbers available advertised on TV and in phone books. You can also research services on line using the internet.
One available resource is the hotline number established by the Illinois Task Force on Opioid Addiction, that number is 1-833-2FINDHELP. This particular program is funded by a federal grant.
A message from Sheriff Gann. "The opioid epidemic that is spreading across this country is unprecedented. The funding is being made available at the federal and state level for treatment facilities and education. First responders are reaching out to help by administering Narcan, attending awareness training and starting programs such as Safe Passage. Everybody is reaching out to you, grab that hand and let us help you."
If you are considering Safe Passage, but have questions, call Sheriff Paul Gann at (309) 303-0182.
8th Grade Graduation Pictures Are In!
8th grade graduation pictures are in! They can be picked up at the Middle School. Summer office hours are 7:30 am – 3:00 pm Monday through Friday until June 29. The office is closed the month of July. Pictures not picked up will be available for pick up at registration on August 7.
St. Paul's Lutheran Church Celebrating 150 Years
The members of St. Paul's Lutheran Church of Manito invite the community to join them in celebrating 150 years of proclaiming Christ.
In 1868 a group of German immigrants wished to follow the mission and vision statement that Christ gave to His church when He rose from the dead, appeared to his apostles, opened their minds to understand the Scriptures, and said to them, "Thus it is written, that the Christ should suffer and on the third day rise from the dead, and that repentance for the forgiveness of sins should be proclaimed in his name to all nations, beginning from Jerusalem. (Lune 24:45-47)
In order to proclaim repentance for the forgiveness of sins in the name of the suffering Christ who rose from the dead, they established the congregation which we know today as St. Paul's Lutheran Church of Manito. The congregation met in Roger's School until they dedicated their first church building in the fall of 1869.
Rev. Reisinger, the pastor of Saint John's Lutheran Church in Pekin, served as the mission pastor of this young congregation. The first resident pastor was the Rev. Hackenburger, who was ordained and installed in 1870.
Since those days the congregation has experienced the times promised by the preacher in Ecclesiastes: For everything there is a season, and a time for every matter under heaven: (Ecclesiastes 3:1)
The members of St. Paul's Lutheran Church of Manito invite you to join them at a special service of thanksgiving on Sunday, July 15 at 3:00 p.m. followed by a free meal. So that there will be enough food for everyone, all who plan to attend should mail a notification before Independence Day (July 4) to: St. Paul Lutheran Church, 21819 N, Co, Rd, 3300E, Manito, IL 61546.
The service will be in the main church building located on N. Co. Rd. 3300E. The meal afterward will be in the parish hall across the road from the church building.
Scripture quotations are from The Holy Bible, English Standard Version ®, copyright © 2001 by Crossway Bibles, a publishing ministry of Good News Publishers. Used by permission. All rights reserved.