From the August 18th edition of the Manito Review:
Special Event for Manito Historical Society
On Saturday, August 29, Phil Frederick of Manito will be hosting an event at his home to benefit the Manito Historical Society. The horse race in Saratoga New York will be the backdrop for "Money, Mingling and Martinis". The party will begin at 4 p.m. and end at 7 p.m. there will be beverages, finger foods and fun. The attire is casual and ladies' hats are encouraged! Tickets are limitied and available for adavance purchase only at the Manito Community Bank or from a Society member.
The Historical Society has some definite needs which require financial resources. Please plan to attend this unique event which promises to be a great deal of fun, but also a support to an important organization.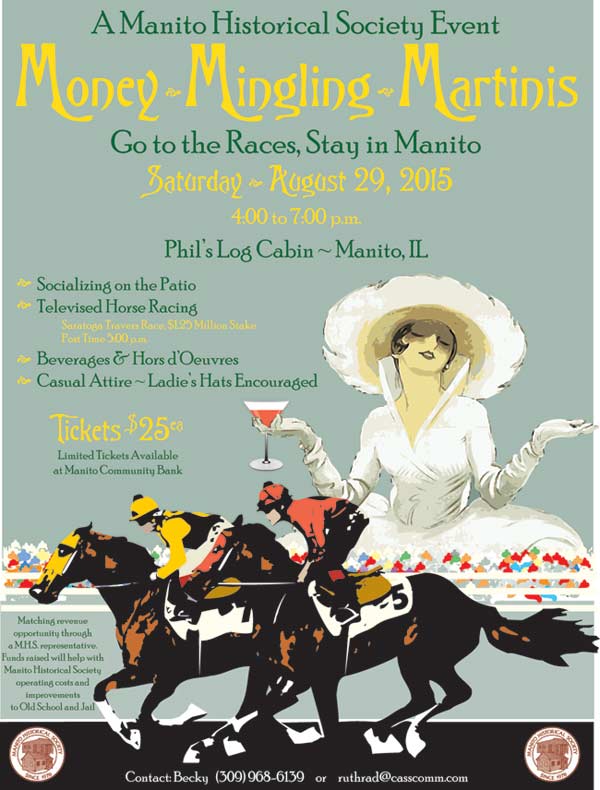 Forman Class of 1973
The Manito-Forman Alumni Banquet will be during the annual Popcorn Festival on Friday, September 4, 2015 at the Forman Center in Manito, Illinois. If you graduated or attended the Manito/Forman High Schools with the classes of 1932 through 1973, you are invited to attend. We would like to locate the following 1973 graduates: David Fry, Steven Keen, Steven Lovell, Denise Edmonds, Laurel Musch, Debra Smith, Vickie Byrd and Karen Brooks.
To give us any information, please contact Helen Cox options@mtco.com 309-692-1931; Bill Wills bill.wills@hotmail.com (309) 261-1667; Randy Maas 309-267-6158 maasfh@centurylink.net.
Manito Popcorn Festival
www.manitopopcornfestival.com
We are now down to crunch time. Popcorn Festival is seventeen days away
We are still seeking sponsors for some of the events during the Festival and Festival Friends is an on going fund raiser.
Pastor Steve Higgs and the Manito Baptist has stepped up to do the Sunday morning "Church in the Park" .
Be sure to check us out on Facebook and on the web at www.manitopopcornfestival.com. All the latest information and an up-to-date schedule can be found on the web-site. You can also hear the group that will be performing on Saturday night at both locations.
Since we do not charge admission for any of the Festival sponsored events, (carnival rides are an independent event) it takes quite a sum of money to provide this quality entertainment. Please consider making your donation soon so that we may continue to hold this celebration each year. This annual celebration is one of the oldest in the area.
The Popcorn Festival Committee is accepting donations for the 2015 celebration.
Donations can be mailed to:
Manito Popcorn Festival
Festival Friends
PO Box 540
Manito IL 61546
Please indicate if you would like your donation to be a memorial, or used for a particular event.
Donations can also be taken to Manito Community Bank
Donations for this year: Beverly Schimmelpfenning-$150.00; Jane Armbrust-$100.00 ; John & Loretta Whitaker-$ 50.00; Manito Self Storage-$150.00; Country General-$250.00; Robert & Pat Smith-$50.00; In Memory of Reggie Gaskill-$100.00; In Memory of Ernest & Hazel Beebe-$100.00; Joe & Phylis Sondag-$50.00; Jim & Ulla Wistehuff-$50.00; In Memory of Shane & Granpa Wayne; Buck Oil Co., Inc (Dennis, Sara & Trevor)-$250.00; Bonnie Long-$50.00; Marjorie Talbott-$100.00; United Methodist Church-$50.00.
Visit Downtown Manito on Tuesdays for Manito Farmers Market, "Junk In Your Trunk" and Pork Chop Tuesday
PORK CHOP TUESDAY!
Every Tuesday we will be downtown with our fundraiser for Friday Night on Broadway's "It's a Wonderous Life in Manito". We will be grilling our pork chops and brats, serving from 5:00 p.m.-7:00 p.m.
Also open (with special Tuesday hours) will be Rustic Roost from 3:30-7:30 p.m.
JUNK IN YOUR TRUNK!
Don't want to hassle with a garage sale but have some things too good for the curb? Load them up and bring them downtown. Although, you can sell any items, each week we will offer a specific theme. The "Junk in Your Trunk" will be available on Tuesdays. If you have any questions concerning the "Junk in Your Trunk" please call Debbie Kalhammer at 968-6853 Diane Beebe at 968-6111.
FARMERS MARKET!
Also available on Tuesdays will be the Farmers Market. Come shop all the fresh offerings Manito residents have available and enjoy the wonderful music provided. Everyone is welcome to bring a lawn chair to sit and relax! If you have any questions or would like to play music or sell at the Farmers Market contact Alex at 309/339-3737 or Jennifer 620-3764.
WANT TO HELP?
We are looking for groups who want to help with this AWESOME weekly event. If you are interested, contact Debbie Kalhammer at 309/968-6853.
We look forward to seeing you downtown!!!
Pork Chop Tuesday Appreciation Night
August 25th
Check your "Stuffed" Pork Chop or Brat to see if you win a prize!
Tuesday, August 25th will be our last Pork Chop Tuesday for this year. Appreciation Night is our way of saying thank you to all of our loyal customers who have supported us this season. To show our appreciation we will have some of the pork chops and brats 'stuffed' with prizes. We will be serving our pork chops and brats from 5:00-7:00 p.m. Bring your lawn chairs and come and join us for the last time this year and maybe win a prize.
The money we raise from our pork chop and brat sales goes to fund Friday Night on Broadway's It's a Wondrous Life in Manito. This year's date will be Friday, December 4th at Willett's Winery.
Manito-Forman Classes
The Manito-Forman Alumni Banquet will be during the annual Popcorn Festival on Friday, September 4, 2015 at the Forman Center in Manito, Illinois. If you graduated or attended the Manito/Forman High Schools with the classes of 1932 through 1973, you are invited to attend. The deadline for sending in your reservation is Friday, August 1st. So please send it in soon. Helen Cox, 1014 W. Applewood Lane, Peoria, IL 61614. It costs $30 per person. My email is options@mtco.com.
37th Annual Manito
5K Race and Fun Run
TIME: 7:30 AM - 1 MILE FUN RUN - TIMED AND PRIZES
8:00 AM - 5K RUN - WALK - NO PRIZES FOR WALKERS
WHERE: MANITO,IL - Begins and ends at Veterans Park on Washington St.
ENTRY FEE: ADVANCE REGISTRATION IS BY AUG. 15 = $20.00
DAY OF RACE = $20.00 without T-shirt or $30.00 with T-shirt we will order
1 MILE FUN RUN $3.00
All advanced registration entrants in 5K Run will receive a T-shirt.
Awards presented immediately after the race! - 3 in each group - male & female
The races are part of Manito's Annual Popcorn Festival.
Saturday's schedule include a parade, variety of food, game booths and more:
Contacts for Race: Lynn Coers 29494 E County Rd. 2390 N, Manito 61546, 309-840-0420.
Monica Charlton, 29572 CR 2500 N, Manito, 309-241-3650.
lynncoers@yahoo.com
Sand Devils Fever. Catch It!
Play Tri-County Junior Football.
Ages 8-14 (Up to and including 8th grade for the 2015-2016 school year). 6-7 year olds can play flag.
Practices and home games are held at West Park in San Jose.
For more information call Bill at (309) 241-0061 or Ben at (309)210-1405
Email tricountyjfl@gmail.com
We have purchased lots of new equipment including blocking sleds and tackling sleds and lots of other stuff.
DEADLINE FOR REGISTRATION IS WEDNESDAY, AUGUST 19!!
THIS IS ONLY THE BEGINNING!!!
Green Valley's August Daze
Celebration, Sat., Aug. 29, 2015
Schedule of Events
• 7:30 5K Walk/Run
• 9:30 Float Judging in Middle School Parking Lot
• 10:00 Food, Vendors of all kinds, and Middle School Boys Double Header Baseball Game
• 10:30 Parade down Main Street
• 11:00-? Food, Vendors, Mud/Sand Volleyball Tournament, Cake Walk, Face Painting, Inflatables, 50/50 Raffle, a few Carnival Games, Dime Toss, Firemen's Water Fight, Beer Tent
• 1:00 Field Activities
• 2:00-6:00 Matt Miller Band under the large pavilion
• 3:00 Bags Tournament by large pavilion
• 6:00-10:00 Southern Cross Band
If you would like to join any of the activities, please contact Renee Coile @ 309-241-2794. We hope to see you at our August Daze Celebration.
IRTA Meeting Sept. 8, 2015
The September 8, 2015 meeting of Mason County Retired Teachers has been moved from Easton to the Mason City United Methodist Church. Meeting time is still NOON and will be held in the church basement. The lift is available for any who have need of it.
Guest Preacher at St. Paul's Lutheran Church
St. Paul's Lutheran Church, 21819 NCR 3300E, Manito, IL invites you to join them on Sunday, August 30th. Rev. Dr. James Lamb, president of "Lutherans for Life" will be the guest preacher at the 10:00 a.m worship service. We invite everyone to join us for a potluck luncheon in the Parish Hall following the worship service. Rev. Dr. Lamb also will have a presentation following the meal.
We surely hope you will be able to join us for this special service and potluck (there is no obligation for visitors to bring anything for the potluck). We would appreciate you notifying us as how many plan to attend by contacting Mary Nannen at (309-352-4190 or e-mail @gran3mchsi.com).
HYL 10U and 12U Girls Fast Pitch Softball Tryouts
We are currently looking for competitive and experienced young girls who take softball seriously and want to have fun along the way. A IOU+12U girls tournament team will be formed to play approximately 40-60 games including the ASA State Tournament throughout the spring/summer 2016 year. This is open to surrounding area players.
Tryouts to be held at Veterans Park, Havana, IL on Saturday, August 22, 2015. 12U girls from 2-4 PM; 10U girls from 4-6 PM. (Sunday, August 23-rain date, same time if needed).
Call or text with any questions or to pre-register. Chad 309-357-9589-12U; Rusty 309-370-4822-10U.
Well Testing Program August 22
Want to find out about how to test your well water? Would your well and plumbing system benefit from disinfection? These and other questions will be answered at a program for private well owners on August 22 at Grandpa's Restaurant in Havana. The program will run from 9 to 11 in the morning.
Steve Wilson and Chuck Curtiss from the Illinois State Water Survey will discuss ensuring your well water is safe to drink, drilled vs sand point wells, septic systems, local groundwater quality, well and source water protection, effect of irrigation, drought, and flooding on groundwater and wells, sampling your well, where to find support and more information.
Well maintenance in Mason and Fulton counties will be addressed. Duane Friend with University of Illinois Extension will discuss well disinfection. There will be plenty of time available for individual questions.
There is no cost to attend the program, and walk-ins are welcome, but to get an estimate on attendance, we ask that you register with the Mason County Extension office at 309-543-3308, or register online at http://web.extension.illinois.edu/fmpt/ , by August 21.
If you need a reasonable accommodation to participate in any event listed in this news release, contact your local Extension office.
Sit, Stay, Walk and Bark for Life!
Sit, Stay, Walk and Bark for Life! Fetch your furry friend and join us for some fun in the sun as we go the distance for healthy pets. Greenhaven Animal Clinic will be hosting "Bark for Life"; an event in which pets and their owners will strut around the track in order to raise money for lovable, adoptable pets in need of forever homes.
Inside the track will feature many attractions including: Adoptable pets, Photo booth, Kid's corner, and informative booths by our amazing Certified Vet Techs & Hill's Prescription Diet. Food and refreshments will be provided. Participants will also receive a Bark for Life t-shirt & participant pack.
Sit, Stay, Walk and Bark for Life! will be held on Saturday, September 19th from 1:00-5:00 p.m. at W. Arch St., San Jose, IL 62682.
Register before Friday, August 28th to participate (minimum $25 donation). Call (309) 247-3231 to register now!
Donations benefit Tazewell Animal Protective Society, Humane Society of Logan County, and Mason County Pets without Parents.
---
MANITO HISTORICAL SOCIETY RECEIVES DONATION FROM CELEBRATION OF LIFE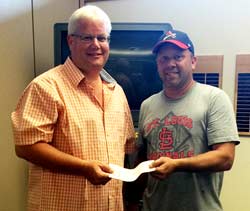 Pictured is Manito Historical Society treasurer, Dirk Heinhorst, receiving a check exceeding $600 from Darren Beckman, proprietor of the Manito Tap. The
funds were a contribution from a memorial celebration of life for Mike Havens who was a long-time employee of the Tap. Customers and friends
gathered on Sunday, August, 2, for the event. Mike had a great interest in and knowledge of Manito history, and it was the decision of all those
involved to make the contribution to our Historical Society. The Society is very grateful for the significant contribution and we sincerely thank all of
those who made the celebration a success.