Sand Ridge State Forest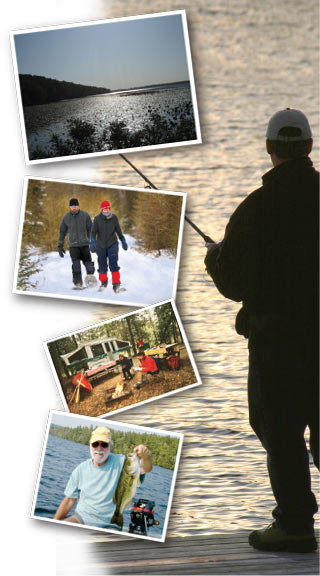 For those who think central Illinois is one big corn field, Sand Ridge State Forest will come as a very pleasant surprise. The forest is an island in a sea of agriculture. Just minutes southwest of Peoria, this 7,200-acre, the largest of Illinois' State Forests, boasts sweeping expanses of native oak-hickory, extensive plantations of pine, sprawling open fields, grasslands, and completely unique sand prairies. For a refreshing, invigorating taste of unspoiled nature and an opportunity to experience truly unique environment, Sand Ridge State Forest is ideal.

The area is the result of a prehistoric dry period when more desert-like conditions existed. Today it remains one of the few places in Illinois that supports an intriguing variety of plants and animals more associated with the Southwest than the Midwest. Those include badger, silvery bladderpod, pocket gopher and prickly pear cactus to name a few.

The raw, undeveloped expanses of hardwood and pine blanketing the panoramic vistas contain miles of outstanding hiking, backpacking, snowmobiling, and horseback riding opportunities. Hunting of deer, turkey, pheasant, quail, dove, and squirrel is permitted. There is a hand trap shooting facility and an archery range.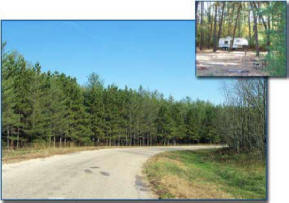 For the dedicated outdoors person this is truly an island of great opportunity to see how diverse Illinois is. For the day visitor, the forest offers picnic facilities and the chance for fascinating experience with nature in the Henry Allen Gleason Nature Preserve. You can enjoy the pristine sand prairie in a protected area closed to vehicles, domestic animals and hunting.

A bird watcher's paradise, Sand Ridge State Forest also is an important nesting area for a great variety of neo-tropical migratory birds, such as ovenbird, indigo bunting, veery and scarlet tanager

The forest covers 7500 acres -- 3996 acres of native oak-hickory forest, 2492 acres of pine, and the rest in open fields and sand prairies.
Source: Illinois Department of Natural Resources
For more information contact site personnel at Sand Ridge State Forest, P.O. Box 111, Forest City, IL 61532 or by phone at 309-597-2212 or by fax at 309-597-2240